Carousel (2014)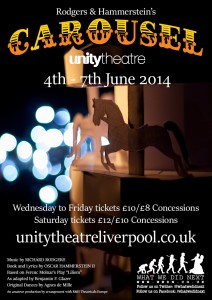 Voted the greatest musical of the 20th century by Time magazine, Carousel is a classic. One of Rodgers and Hammerstein's darker musicals, it was the first to deal with serious issues unseen to many audiences.  The 1945 work was adapted from Ferenc Molnár's 1909 play Liliom, transplanting its Budapest setting to the Maine coastline. The story revolves around carousel barker Billy Bigelow, whose romance with millworker Julie Jordan comes at the price of both their jobs.
'Whilst Oklahoma! is about a picnic, Carousel is about life,' Stephen Sondheim
When: 4th – 7th June 2014
Where: Unity Theatre, 1 Hope Place, L1 9BG
Photos from Carousel can be found here.