Bat Boy: The Musical (2013)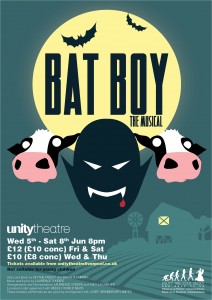 When a half boy/half bat is found in a dark cave in the American South, the local sheriff brings him to the home of the town veterinarian. There he is taught to act like a normal boy and is eventually accepted as a member of the family. But when he naively tries to fit in with the narrow-minded townsfolk they turn on him and force the truth of his unholy origin into the bright light of day.
From the composer of Legally Blonde, this award winning musical that is part B movie parody, horror and comedy follows a Bat Boy trying to find his place in the world.
When: 5th – 8th June 2013
Where: Unity Theatre, 1 Hope Place, L1 9BG
Photos from Batboy can be found here.