Any Other Name (2011)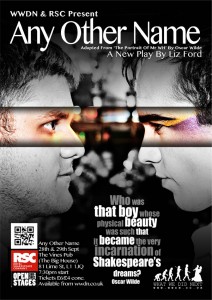 "…suddenly we become aware that we have passions of which we have never dreamed, thoughts that make us afraid, pleasures whose secrets have been denied to us, sorrows that have been hidden from our tears… that strange self pity that man so often feels for himself comes over us and makes us different."
OSCAR WILDE 1889, THE PORTRAIT OF MR WH
Mike Blessington thinks that he is happy. He is on the road to success. He has everything he's spent his life aiming to achieve; the pretty wife, the state-of-the-art flat and the job which guarantees he can maintain both comfortably. However, political unrest grows as Margaret Thatcher imposes unwelcome changes across England. Amidst the turmoil, Mike reignites a friendship with two old pals and finds himself face to face with the most beautiful young man he has ever seen. He begins to realise that his reality is empty and that his heart holds desires that he never has, and perhaps never will, fully explore.
One hundred years earlier in George Erskine's living room, Oscar Wilde is also introduced to a beautiful young man. The elusive 'Mr WH' to whom Shakespeare dedicated his Sonnets comes to him through a forged portrait and a tragic tale of narcissism and repressed love. Wilde falls in love with the story, becoming obsessed with the Sonnets and all they represent.
Mike (now Mickey), hopelessly infatuated by Will, walks the steps of Shakespeare hundreds of years before him, as Wilde spins the doomed tale of 'the Willie Hughes theory' to which first his rationality and subsequently his friend become victims.
When: 28th – 29th Sep 2011
Where: The Vines Pub, Lime Street, L1 1JQ
Photos from Any Other Name can be found here & here.
Production Team
Cast
Producer: Sarah Brown
Writer: Elizabeth Ford
Director: Rebecca Cope
Technical Director: Kasper Hunt
Designer: Robin Murphy
Mickey / Wilde: Luke Barton
David / Mr Erskine: Matthew Exley
Lisa / Mrs Erskine: Francesca Abbot
Will / Portrait / Cyril: Alexander Morris
Charlotte / Constance: Zoë Marras
Dark Lady / Maid: Elena Stephenson