Into the Woods (2011)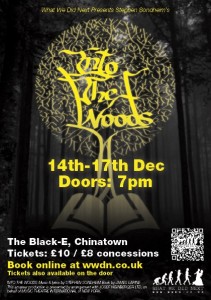 Stephen Sondheim explores classic fairytales and relishes taking us on a journey to their darker side. A childless baker and his wife endeavor to lift their family curse by journeying into the woods, where they encounter Rapunzel (and her witchly "mother"), Cinderella, Jack (of Beanstalk fame), Little Red Riding Hood and other classic fairy tale characters, and they all must learn the responsibility that comes with getting what you want.
When: 14th – 17th December 2011
Where: The Black-E, 1 Great George St, L1 5EW
Photos from Into The Woods can be found here.
Production Team
Cast
Producer: Zoe Thirsk
Director: Kate Rugen
Technical Director: Kasper Hunt
Musical Director: Maddie Stones
Choreographer: Dominique Shonlee Sze
Assistant Choreographer: Ash Ahmed
Set Designer: Robin Murphy
Head of Sound: Rory de Carteret
Deputy Sound: Steven Andrew
Lighting Operator: Lee Mc Neillis
Stage Manager: Chris Brockelsby
Deputy Stage Manager: Fiona Darling
Head of Wardrobe: Alex Herring
Assistant Wardrobe/Hair and Makeup: Neil Mckenna
Head of Hair and Makeup: Victoria Griffiths
Property Master/ Front of House Manager: Andy Walker
Deputy Front of House Manager: May IrvingStage Hand: Alex Cook
Front of House: James Fellowes, Jess Price, LJ Ross, Zoë Thirsk
Narrator: Mark Rawle
Cinderella: Sarah Brown
Jack: Sol Adams
Jack's Mother: Ellie Stephenson
Baker: Jack McGraa
Baker's Wife: Elen Royles
Step Mother: Ellie Gray
Florinda: Steph Minshall
Lucinda: Tash Hutchinson
Cinderella's Father: Andrew Abrahamson
Little Red Riding Hood: Franki Burke
Witch: Jenny Martyn
Wolf: Shaun Holdom-Eyles
Granny: Rebecca Patterson
Rapunzel's Prince: Jak Malone
Cinderella's Prince: Jamie Barfield
Steward: Andy Godden